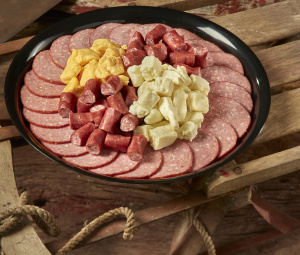 12 Inch Snack Attack Party Trays (For pick-up only)
Our cheese and sausage party trays include our award winning sausages and a variety of cheeses. We can also add a variety of sliced meats (ham, dried beef, smoked turkey, smoked chicken) to create a delicious tray for sandwich making (available for an extra charge).
Our snack and party trays are special order items. We can customize any tray to meet your needs.
Please call ahead to place your order (715-359-1311)!